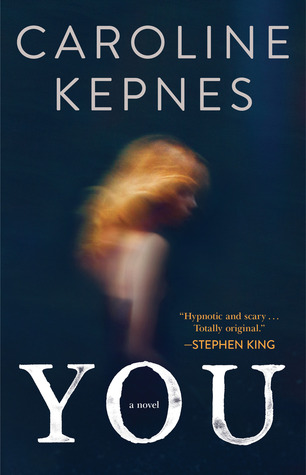 When a beautiful, aspiring writer strides into the East Village bookstore where Joe Goldberg works, he does what anyone would do: he Googles the name on her credit card.

There is only one Guinevere Beck in New York City. She has a public Facebook account and Tweets incessantly, telling Joe everything he needs to know: she is simply Beck to her friends, she went to Brown University, she lives on Bank Street, and she'll be at a bar in Brooklyn tonight—the perfect place for a "chance" meeting.

As Joe invisibly and obsessively takes control of Beck's life, he orchestrates a series of events to ensure Beck finds herself in his waiting arms. Moving from stalker to boyfriend, Joe transforms himself into Beck's perfect man, all while quietly removing the obstacles that stand in their way—even if it means murder.
Disturbing and creepy are the first words that come to mind when I think of this book, and that's exactly why I would recommend this book to everyone. First of all, to teach women that creeps are out there and they need to be careful, but also to experience a story told from a perspective that many don't get to see.
Joe, the main character, is a total creep stalker, and Beck is his new love obsession. I was expecting something more of a peeping Tom kind of stalker, a stalker who never makes contact with his victim, but not Joe. This dude is CRAZY. He talks to her alright, he takes obsession to a whole other level, because when he wants Beck, he gets Beck, and nothing and no one will stand in his way.
He also reminds me of a teenage girl in a way. For instance, when Beck texts him he gets all happy and on cloud nine, but when she doesn't text right away he freaks out that she doesn't like him anymore. Issues much?
This book gave me the creeps, but it was also filled with some humor, of course coming from a creep, but still, at some points, I wasn't sure if it was funny of if there was something wrong with me too. But I just decided that it was black humor and went with it.
Now you may think that Beck is this innocent girl who is being manipulated by this guy, but she herself has some big issues. She's not a stalker, but she's no innocent either. And Joe, being blinded by her doesn't get to see all of them.
Social media plays a big role in this, especially Twitter and emails, everything that Beck tweets, Joe interprets in his own way, and surprisingly he is accurate most of the time. Something we don't think of when we use social media, everyone is watching, everyone has access, and once they know where you are, it's freaking scary as hell.
I think the writer did a great job going into Joe's mind, which is just filled with C-R-A-Z-Y thoughts, he always has a way to justify his behavior, he always thinks he's doing the right thing, and he is just madly in love. He thinks it's fate, so what could be so bad right?
Some may like this book, and some may not, I felt like I saw the ending coming for a long time, but nonetheless it was still good, and I already started reading part 2 Hidden Bodies. You have to just accept that this book will give you goosebumps, and make you see the world in a whole new way. How many Joe's are out there? Eeek!
If you read the book tell me in the comments below what you thought of it?